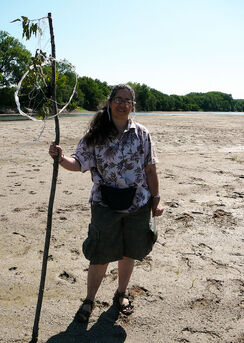 Ruth Patrick is the author of this story and the creator of this Wiki.
also known on various websites as Jadisofeternity, Jadis, JadisRuth, or JoCarmen.
I was born March 17 1961 as Ruth Marguerite Manney in Walnut Creek California.
I have lived in Kansas since 1971, and have always wanted to write stories. I have never been very good at finishing things.
I also often do random art work in many different media and write poetry. Samples of that can be seen on on the four art online communities I belong to:
I am Married to Roy Patrick and we have lots of children [His mine and ours] most of whom are grown.
I have a BS degree in Anthropology and Social Science from Kansas State University in Manhattan Kansas. That's why I set bits of this story at KSU and in Manhattan Kansas. The university is my home town.
I'm bi-poar and probably slightly Autistic. So are some of my children. My husband has many physical disabilities.
We are active members of the Church of Jesus Christ of Latter-day Saints .
Ad blocker interference detected!
Wikia is a free-to-use site that makes money from advertising. We have a modified experience for viewers using ad blockers

Wikia is not accessible if you've made further modifications. Remove the custom ad blocker rule(s) and the page will load as expected.