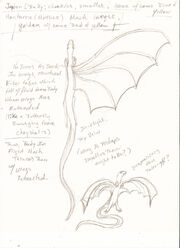 A
Dragon
. she looks to be a golden color when flying.
the Mother of Jayden and Aubyn .
Foster Mother of Lenn .
she aquirred the baby Lenn, believed to be dead, in restitution for some harm done to her by Alexandreil Teppin .
Lenn was born Dream Bound , and Alexandreil made this deal for Lenn to be allowed o live because he was already very attached to Lenn in the dream plane before Lenn and his twin brother Tersh were born.
Ad blocker interference detected!
Wikia is a free-to-use site that makes money from advertising. We have a modified experience for viewers using ad blockers

Wikia is not accessible if you've made further modifications. Remove the custom ad blocker rule(s) and the page will load as expected.